Our company also specializes in carrying out repairs of pump injectors SIEMENS to engines of many types of cars like AUDI, VILKSWAGEN, SKODA, SEAT, JEEP produced from 04.2004 to 10.2008.
02. To help you to assess if your pump injector SIEMENS belongs to the group, below we present the photo of a pump injector type 03G130073D,  03G130073M,  03G130073T,  03G130073S,  03G130073DX,  03G130073MX,  03G130073TX and 03G130073SX (140 PS-170PS)
In repairs of which our company is specialized in.
If your pump injector SIEMENS is almost identical to the one in our photo, you can send it to us, and we will diagnose it, repair, test and send you back.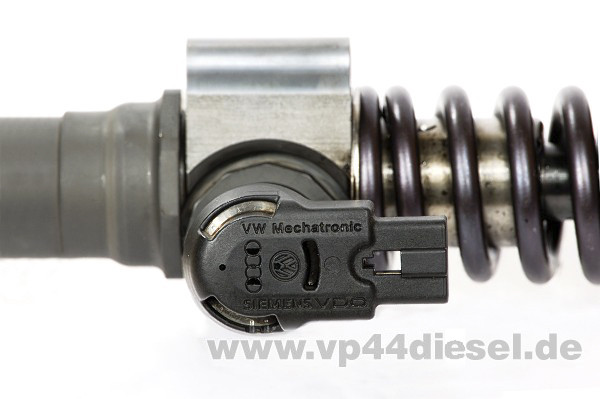 Pump injector SIEMENS
Pump injector serial number 03G130073D (103 kW-140 PS) and 03G130073M (125 kW-170 PS) by SIEMENS injects fuel in diesel engines of cars like Audi, Volkswagen, Skoda, Seat and Jeep, now our company can successfully repair it.
Diagnosis:
Any user can easily diagnose the car s/he uses, failure symptoms of pump injector SIEMENS are very specific, below we present its descriptions.
If after switching ignition in your car one of these symptoms occur:
the engine is shut down and the light of glow plugs is flashing,
the engine interrupts and losts RPM.
It all suggests the defect of the pump injector SIEMENS. Now it is not a problem, because instead of costly replacement of the pump injector to a new one, we will repair it for you at a very attractive price of 200 EUR net.
Below is a simple way to determine which pump injector needs to be repaired, you just need to check the coil shorted to ground. To determine this, you need to measure with an ohmmeter between one of the two terminals of the coil (point 1 or 2 at the photo) and ground of pump injector (pictured point m). If the injector is good, then the resistance will be less than 20 mega ohms (MΩ), but if the pump injector needs to be repaired, one of the pins will be shorted to ground, and it means that this is the injector which needs to be repaired.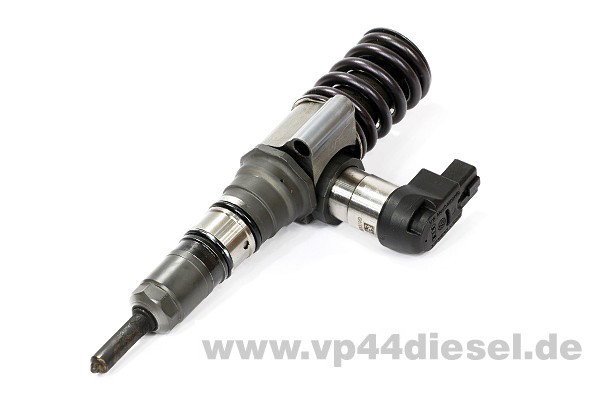 It happens sometimes, that after replacement or repair of one pump injector, after some time another pump injector damages, which is why our company prepared great offer of repair of all four pump injectors of the engine (including those that cause failure later in time). Our offer allows you to repair all 4 pump injectors at a price of only 3, that means the one repair is free of charge. Our offer makes possible to repair all 4 pump injectors for only 600 EUR net and have guarantee that for another 18 month at least, regardless of the number of kilometers driven, pump injectors will be efficient and reliable.
In addition, companies that sign a business contract with us, can count for additional 30% discount, then repair of set of 4 pump injectors is only 420 EUR net, which is average 105 EUR net for 1 pump injector.
This is sensational and very attractive price for efficient pump injectors by SIEMENS.
Repair of single pump injector for our business partner after 30% discount is 140 EUR net.
Companies form European Union, which have an EU VAT number, use an additional exemption of VAT, then all net prices are equal with gross prices.
Failure of pump injector by SIEMENS is common problem in such vehicles as:
VW Golf VI, VW Jetta V, VW Passat B6-C3, VW Touran,
Audi A3, Audi A4,
Seat Altes, Seat Leon II, Seat Toledo III,
Skoda Octavia II, Skoda Superb II ,
Jeep Compass 2,0 CRD
With diesel engines type BMR, BUZ, BMN, BUY, BVA and BRD 2,0 TDI-PD (capacity 1968 ccm)

Siemens unit injectors delivered to ZIPART Ltd. are cleaned chemically and then tested on how they work. After the test, we repair the injector, replace both the electronic and mechanical components, we assume the new seals and re-test the SIEMENS unit injector.
The repaired unit injector SIEMENS is exactly the same, which was damaged in your car, so during the installation it is not necessary to set the pusher lever according to the instructions of assembly of unit injector.
Below we present codes of errors which indicate failure of pump incjector, which our company can repair for you.
Codes of pump injector to AUDI, SKODA, VW, SEAT engine 2.0 TDI 140 KM i 170KM
17448 P1040 - Supply fuel injector(s) A, electrical malfunction in circuit
18578 P2146 - Supply Voltage for Fuel Injector Group A, Open Circuit
18579 P2147 - Supply Voltage for Fuel Injector Group A, Short to Ground
18580 P2148 - Supply Voltage for Fuel Injector Group A, Short to B+
17447 P1039 - Supply fuel injector(s) A, shorted
If these error codes appear in your car, it means that the pump injector needs to be replaced or repaired. Our company recommends repair, because it is much cheaper and protects against possible damage in the future.
Symptoms of the pump injector damage usually begin with interrupting work of the engine or loosing RPM - in an early stage it happens once for a few weeks, but it should not be neglected, because with time it quickly turns to permanent damage.
Removing of the injector is not easy and requires professional skills, so we direct our offer mainly to services and garages.
Zipart GmbH can now repair pump injector by SIEMENS and for our service we give 18 month guarantee without mileage restrictions.
When sending the pump injector please fill in, print and sign the order, which you will find in the ORDER tab.
The injector should be wrapped in bubble wrap, or other material protecting the injector during the shipment.
Note: You should put into package legibly completed and signed order and send package at your own cost to:
ZIPART Ltd.
ul. Chynowska 8
PL 65-138 Zielona Góra
Poland
(all details can be found in the pump injectors ORDER tab)